Samples of how to put pictures in the scrapbooks we sell.
I use mounting squares (double sided tape) to adhere the pictures to the scrapbook. Don't use liquid glue or your pictures will warp. On books with a lot of glitter on the paper or embossed paper, I use glue dots. Glue dots are a sticky adhesive and not a liquid glue. Glue dots hold the picture better on glittered or embossed paper.
Explosion Box Scrapbook
This scrapbook will hold 25 cropped pictures.
I use 4 x 6 pictures and cut them down.
I cut the pictures into 3 sizes...
3 1/4" x 3 1/4" for the large flap
3" x 3" for the medium flap
2 3/4" x 2 3/4" for the small flap
Put the pictures on the front and back of each flap on the inside of the book. Make sure you don't cover the outside of the box. You will notice that in 2 of the spots I didn't put a picture so my book only has 23 pictures in it.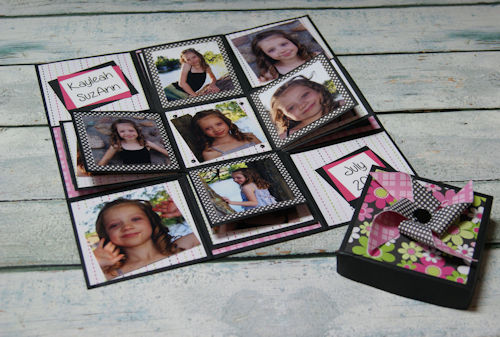 Squash Scrapbook
This scrapbook will hold 16 pictures.
I use 4 x 6 pictures and cut 4 with a straight edge and 12 with a triangle template. You should have received this template when the book was purchased. If you lost yours, you can cut a piece of cardstock in a 4" x 4" square and then cut it in half at the diagonal.
When cutting the 4 larger pictures, I just cut a little of each picture to make it fit in the square and leave a little border.
To cut the triangle pictures, take your picture and hold it on a window or somewhere that light will come through. Then place the triangle on top of the picture and arrange it until you see what you want for the picture. Trace the triangle on the picture and cut out. The picture will fit perfectly in the spot and leave a little border.